Dunbars Plum Seeds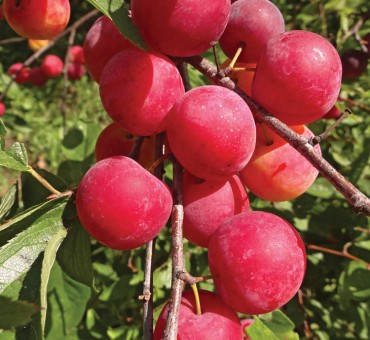 High Quality Fruits-Prolific Production-Eat Fresh or for Jam
Trees fruit heavy on short spurs as well as along branches. Vigorous upright trees form a single trunk. The 1/2 to 1 inch fruit range from red to blue. Recommended for its quality fruit for jams. Our Ecos strain was selected only from trees for their high quality fruit, good yields and no insect or disease damage. Easy to maintain as a single trunk tree.
Germination: Fall plant seeds 1/4 to 1/2 inch deep. Most seeds will sprout the first year, however it is not uncommon for 50 percent of the seeds to sprout in the second year depending on the conditions. To germinate seeds indoors, put the seeds in a lightly moist Canadian peat moss and refrigerate from 34-38 F for 60-120 days. The seeds will begin cracking open in the fridge after 60-90 days. A portion of the seeds will not sprout and these will need to go through another warm period (summer) and cold to sprout. Plant your sprouted seeds one at a time in lightly moist well drained soil mix. Tops will appear in 1-2 weeks.
Plant Specs
Genus & Species:
Prunus x dunbarii (americana x maritima)
Seed Source:
Michigan
Hardiness:
-30F
Height (ft):
10-15
Width (ft):
10-15
Pollination Requirements:
Self fertile but best if 2-3 plants are grown near each other for best fruit set.